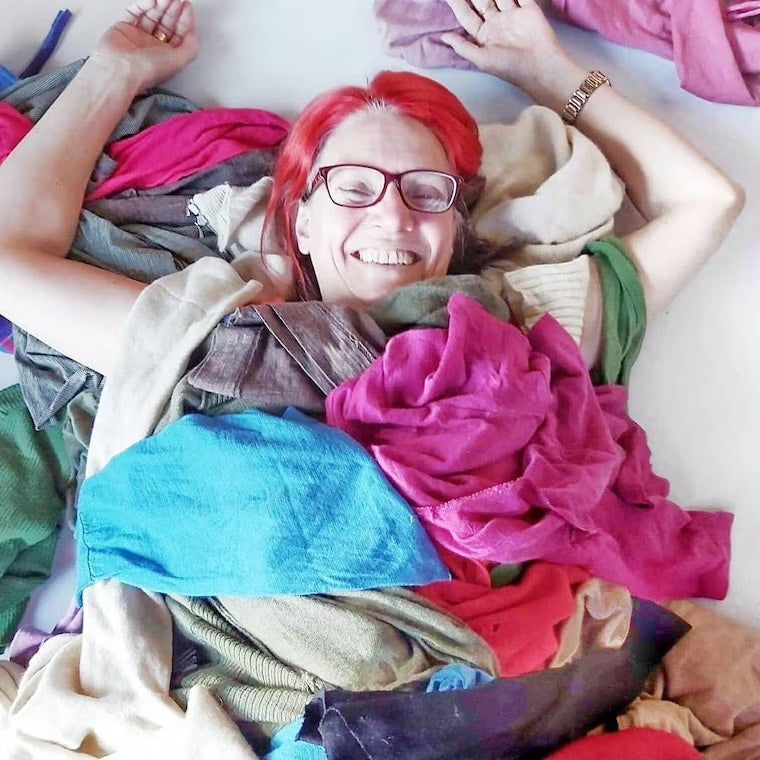 Hi, I'm Bea the artist and creator behind heke design- an upcycled fashion brand from New Zealand.
The name heke comes from the shortened version/nickname for Waiheke Island, which is where I reside and where my business began.
I feel a strong connection to the motu and to be doing the work to help protect papatuanuku ( Mother earth)
In Te Reo heke also means to get off, dismount, disembark or to migrate.
 I am not at all connected with the family name Heke or anyone from that lineage.
I am a pākeha woman from Australia, raised in Canada 
and now residing in New Zealand, Im a self taught designer who has been sewing, crafting or painting since childhood.
Between 1986-92 I designed under the label Beazworx Vancouver.
I have also spent many years in the music industry, and had the priviledge of travelling around the world looking after wardrobe for the likes of k.d lang, Diana Krall and Leonard Cohen and the Tragically Hip.
12 years ago I moved to New Zealand, it was then I discovered the sheer volume of clothing discarded from op shops.
As an avid recycler,I felt something HAD to be done.
Heke design was born.
Upcycling was the perfect challenge and combination, of creativity with a real purpose:
To reduce waste.
Pretty much everything I use is destined for the landfill.
I would love to see upcycling become mainstream, and for consumers to be more aware and mindful of the story behind their clothing.
And the artist in me LOVES to seeing people wear colour.